Dir/scr: Isabel Coixet. Spain. 2019. 118 mins
The story of what was arguably Spain's first gay marriage is turned into a relentlessly pretty melodrama in Isabel Coixet's latest feature. Shot in black and white, the overlong drama could conceivably pass for edgy with the mass audience it will possibly attract when it airs worldwide on Netflix later this year, due to some gauzily tasteful lesbian sex scenes, one of which bizarrely involves an octopus.
Coixet misses no opportunity to make forbidden love look as classy as a perfume ad
But deep down this is a conventional and predictably plotted period drama about a clash between bodice-ripping passion and social mores. The most emotionally authentic part of the film, by far, are the wedding snapshots that run with the end credits, depicting unions between women that have taken place since Spain legalised homosexual marriage in 2005.
There's no denying that Elisa And Marcela is easy on the eye, just like its eponymous heroines. DoP Jennifer Cox brings her experience in commercials and music videos to bear on the painterly framings and shallow-focus, skin-caressing textures of a film that, with the help of the costume and production design departments, misses no opportunity to make forbidden love look as classy as a perfume ad.
After a brief flash-forward prologue, the story begins in 1898 in a girls' college run by nuns in La Coruña, where new girl Marcela (Greta Fernandez) is adopted by older student Elisa (Natalia de Molina). The attraction between the two is clear from the start, but so are the suspicions of the adults that surround the two girls – particularly Marcela's stern, authoritarian father.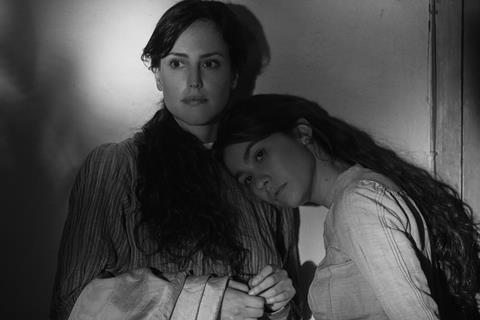 There's an obvious social imbalance between the dark-haired, initially more submissive Marcela and her fairer, more privileged friend, but the script isn't particularly interested in teasing this out; neither does it delve much into the conditions of life in rural Galicia, where the two friends eventually find posts as primary school teachers in nearby villages. Coixet is more focused on the emotional and sexual flowering of the two women's love as they finally give way to their mutual passions. This plays out in a tasteful erotic crescendo that begins with some slow corset unlacing and proceeds via toe-sucking to the deployment of a series of props: octopus, seaweed and milk, in that order.
When the village gossip becomes too much to bear, Elisa disappears for a while and, assuming the identity of a possibly fictitious cousin who died, comes back as Mario – a laughable male act which fools the local bishop, if not the audience, for long enough for the lovers to be joined in marriage.
Persecution follows hard on the heels of the deception in a stiffly melodramatic final section. But even when things are at their most grim, Elisa and Marcela's matching prison clothes look like they might have featured in a mid-1990s Dolce & Gabbana collection. A return to the 1920s Argentinian setting we glimpsed at the beginning brings a plot twist, one that allows Coixet to tie a neat bow around the problem that there is almost no record of how the real Elisa Sanchez Loriga and Marcela Gracia Ibeas ended their lives.
A final caption details, among other facts, the number of countries around the world where homosexuality is still illegal. Here's hoping that this well-meaning, good-looking period bagatelle helps, at least, to change minds and soften illiberal attitudes.
Production company: Rodar y Rodar
International sales: Film Factory, info@filmfactory.es
Producers: Joaquin Padró, Mar Taragona, Zaza Ceballos, José Carmona
Production design: Silvia Steinbrecht
Editing: Bernat Aragonés
Cinematography: Jennifer Cox
Music: Sofia Oriana
Main cast: Natalia de Molina, Greta Fernandez, Sara Casanovas, Tamar Novas, Maria Pujalte, Francesc Orella.